VeBest Astrology Quick Start Guide
To enter your personal data. Click on 'Personal':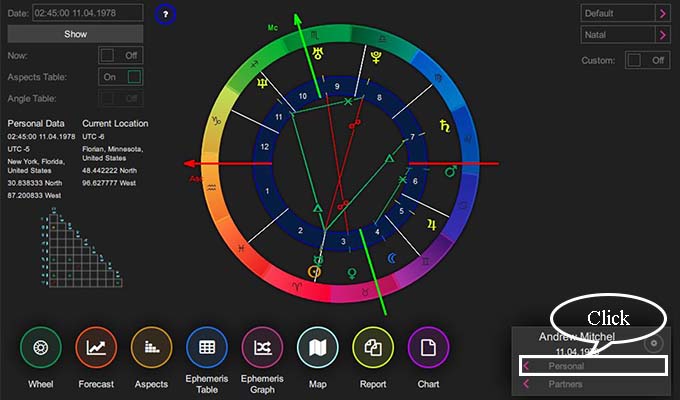 Enter your personal information: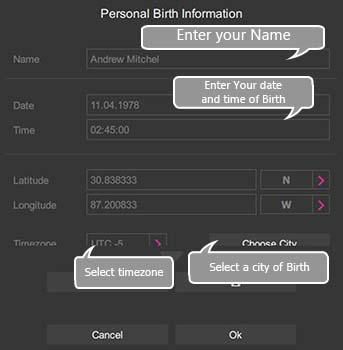 Choose your city:
Click 'OK':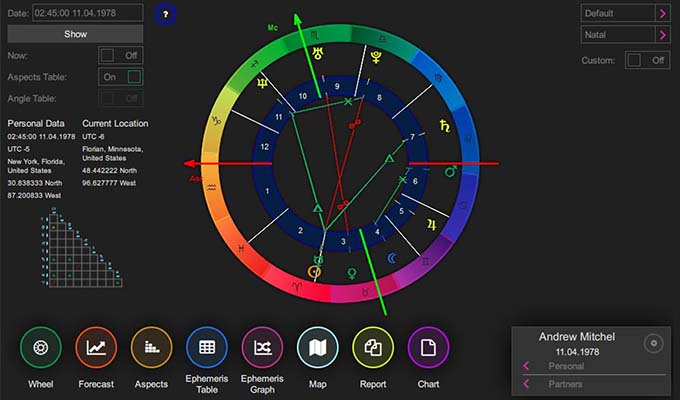 Transits wheel, forecast date.
Enter your current location data. Scroll down in personal information dialog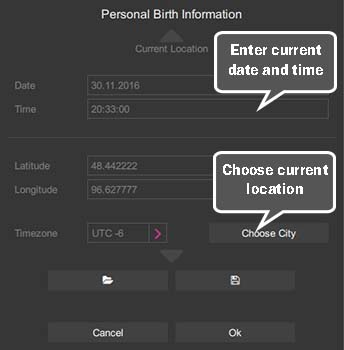 Click 'OK' and choose 'Natal+Transit' type of wheel.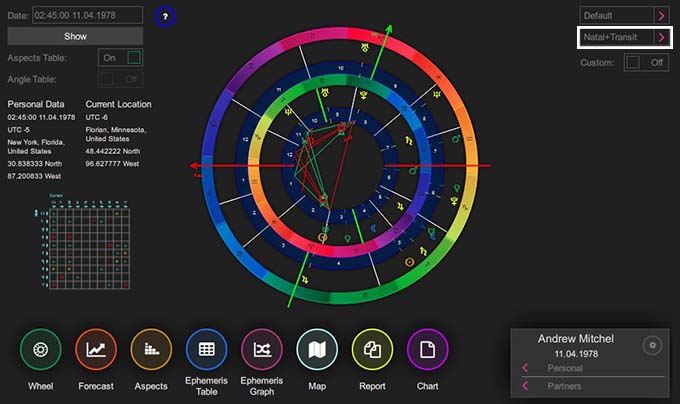 Synastry wheel
Similary, add your partner information:
Choose type of wheel 'Natal+Synastry' to show double wheel: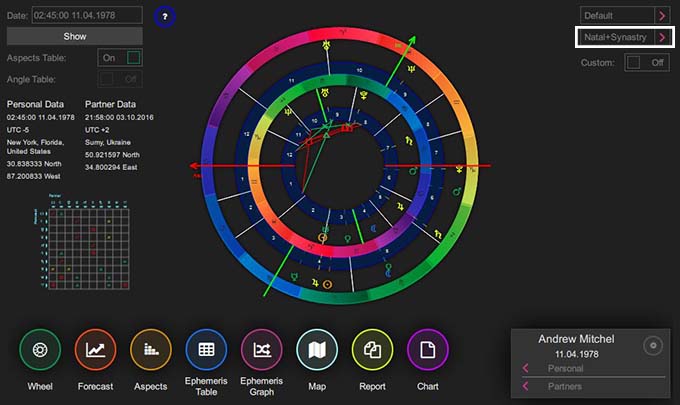 Browse aspects, ephemeris table and graphs. Read your reports. Create your own chart.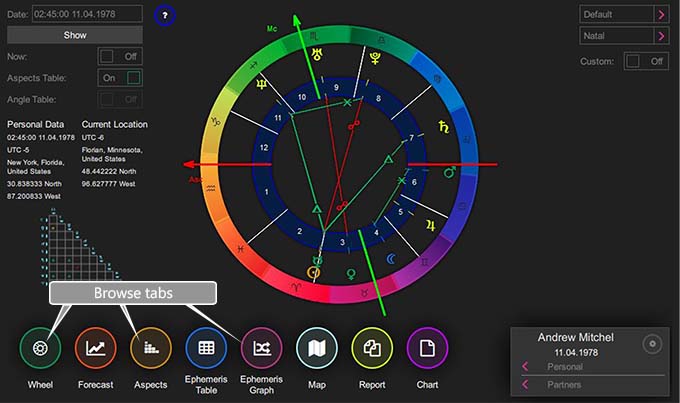 Printing all reports or charts
To print all report click on button 'Save' to generate report and save it in PDF document. Open generated PDF to print it.
Also You can select necessary part of the report and save it.
In professional version you can create and edit custom reports. Click 'Edit', create new report and choose it in 'Astrologer' combobox.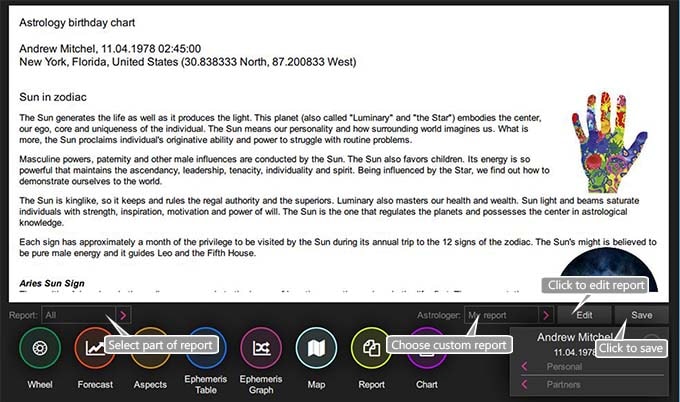 Settings
Wheel tab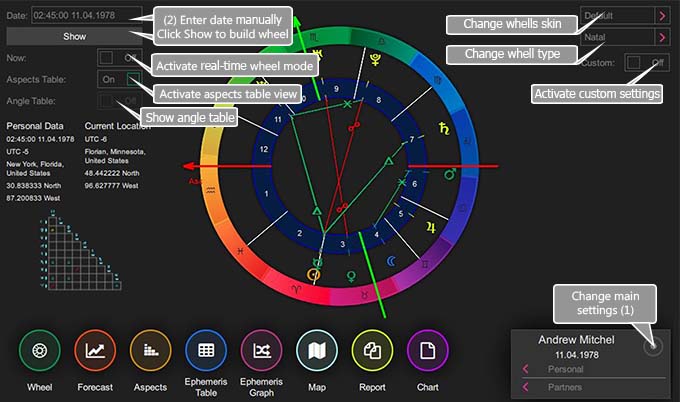 - To change main program settings click button (1). You can enable/disable astrological bodies on wheel, change default wheel time and to change app scale. *Default wheel time and scale will be changed after program RESTART.
- Enter date manually and build wheel for required date. Click button 'Show' to apply changes.
- Activate wheel real-time mode. Toggle 'Now' switch.
- Show aspects on wheel tabs. Toggle 'Aspects table' switch.
- Show table with angles for astrology bodies on wheel tabs. Use 'Angle table' switch.
- Change wheels skin: 'Default' or 'Simple'.
- Choose wheels type: 'Natal', 'Natal+Transit' or 'Natal+Synastry'.
- Activate custom planets settings. You can disable/enable drawing of the planets on the wheel. Toggle 'Custom' switch.
Report tab
Click button 'Edit' to edit report settings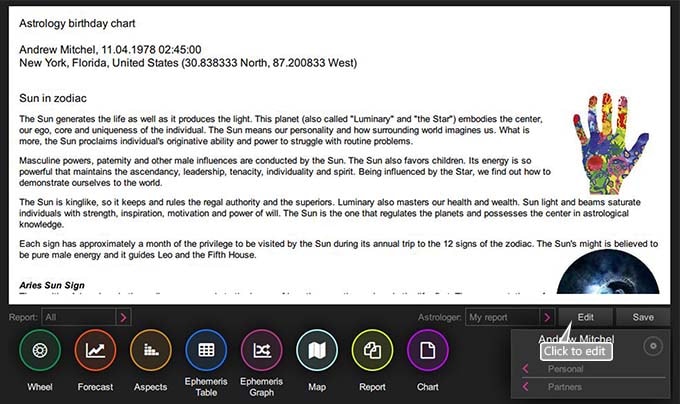 To edit report first you need select a report, then select necessary sub-reports and uncheck 'Default'. You can change text color, size, change default images etc.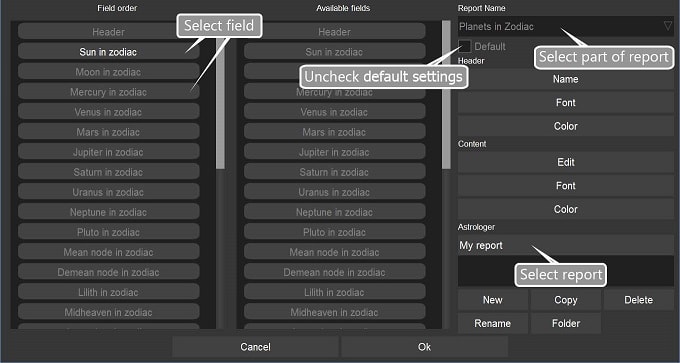 Forecast (available in full and pro version after registration)
To show your forecast/horoscope you must do following steps:
1) Enter your personal data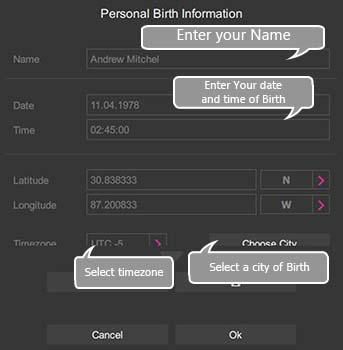 2) Srcoll down and enter your current location data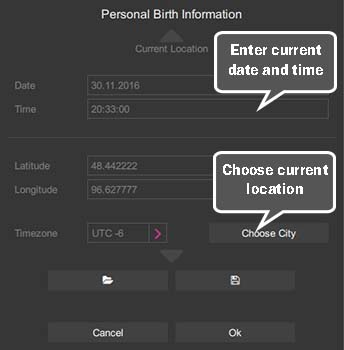 3) Click 'OK' and choose 'Forecast' tab.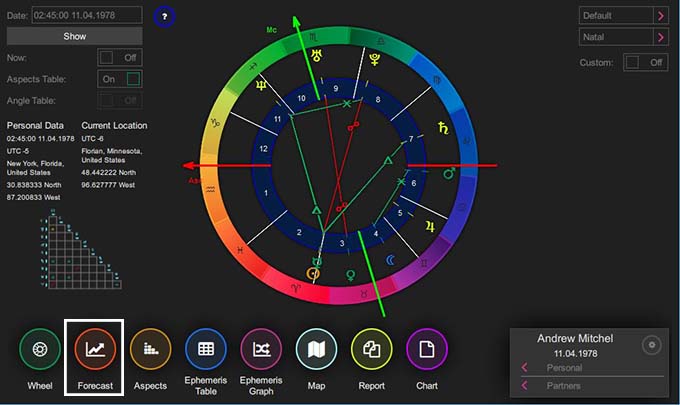 4) Choose prediction period. Available forecast periods: Now, Daily, Weekly, Monthly.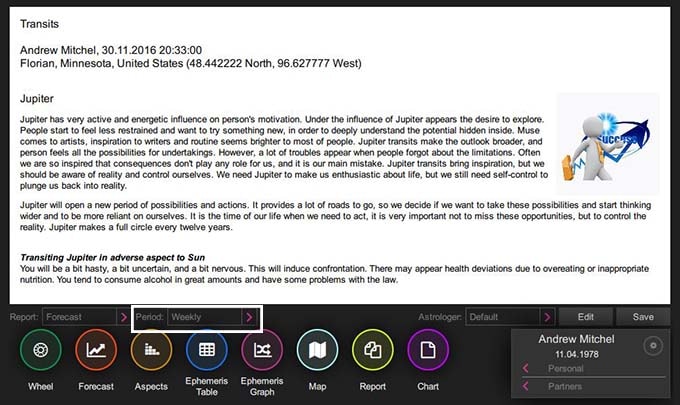 Astrology system
The program is based on Western astrology.
Western astrology is one of the three astrological systems common in the world. The origins of Western astrology lie in the astrological system of Babylon and are developed by the first century. n. e. in the Hellenistic world (see Tetrabiblos), since the basic principles of Western astrology have not undergone any serious changes. Originating as a pagan science, astrology developed in the vein of the occult hermetic current and therefore always had a palpable religious tinge. The heart and at the same time the crown of Western astrology is the horoscope and art of its interpretation (analysis).