Shell & Desktop Enhancements
Ve Best iPod Video Converter software
Version 1.0 build 939. May 22, 2010. File size 16.9 MB.

 

Main features

- DVD to iPod MP4/MP3 conversion;

- AVI, WMV, MOV to iPod MP4/MP3 conversion;

- Merging input files into one continues output file;

- Add video to iTunes;

- Multi language interface.

 

Input Video Formats

AVI (DivX, XviD), DVD, DV AVI, MP4 (Sony PSP, Apple TV, iPod, iPhone, BlackBerry, etc), WMV (including Zune), ASF, 3GP, 3GP2, 3GPP, 3GPP2, QuickTime (MOV, QT), VOB, IFO, VIDEO_TS, AUDIO_TS, MPG, MPEG 1,2,4, MOD, DAT, MJPEG, VCD, SVCD, H.263, FLV, MTS, M2T, MKV, VRO.

 

Output Formats

iPod Compatible, MP4, h.264, MP3

 

User interface Languages

English, Deutsch, Español, Français, Italiano.

 

System requirements

Windows XP/Vista/7

Internet connection for program activation

Latest video codecs (installation instructions)

eSellerate is an authorized
retailer of VeBest Corp.



 

 
| | | | |
| --- | --- | --- | --- |
| Watch Video tutorials | Read Manual | Frequently Asked Questions | Support |
| | | | |
Best iPod Converter Review
For those wishing to buy a world-class software solution for fast, easy and hassle-free conversion of video formats into their iPod devices, Best iPod Converter is the right choice.
If you have the latest generation of iPods, specifically iPod Touch, iPod Nano, or iPod Classic apart from iPod Video hand-held gadgets, then you need powerful software with technology upgrades to convert your DVD movies and all video formats into them for enjoyable viewing anywhere you go. This requirement is squarely fulfilled by Best iPod Converter - an all-in-one software solution, where you get two latest conversion tools - DVD to iPod Converter and iPod Video Converter as a package suite, for the lowest price possible.
Best iPod Converter is a spiffed-up front end for codecs that converts your video files into an iPod compatible format. You can determine the video and sound quality level and have the computer program automatically close down the computer when it's finished.
There is all innovational here, and Best iPod Converter has got good looks combined with decent functionality and its amazing low price make Best iPod Converter a solid competitor to other alike software.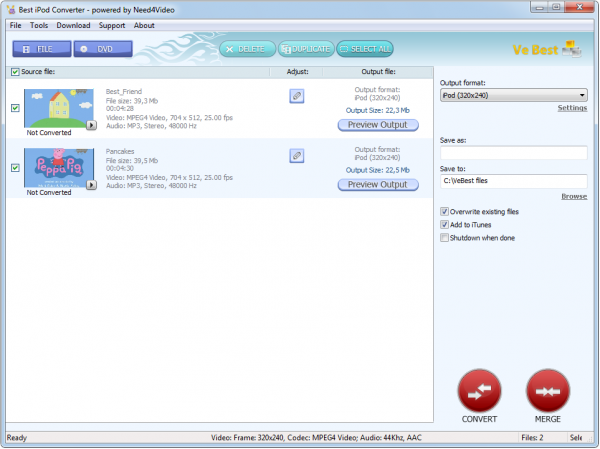 No hassles - no any additional software needed in between to make the condersion any more and this software can instantly convert all the movies you cherish into your iPod. All you need to do is browse, select the videos you want to be converted to your iPod and click - that is all - this software will start converting the picked out movie or video to your iPod-compatible video format automatically.
Best iPod Converter is enhanced with lots of special features - automatic download of internet movies; the conversion speed is the highest consuming negligible time; one-step conversion of internet videos and movies straight to iPod; very pleasant to make the conversion by just a couple clicks of the mouse; the settings customizable in the software is ideal to use because the procedure of conversion can be abruptly finished anywhere in the middle and the output transferred so far can be played back instantly; automatic detecting of conversion enabled, so that the program finds the hardware of your personal computer and adjust the speed of conversion accordingly; and while accomplishing the converting process there is a preview display to enable you check the quality of the conversion progress.
The forward-looking technology incorporated in free Best iPod Converter makes it potential for you to convert any DVDs and pictures to the iPod Nano, iPod Touch, iPod Classic and iPod Video with advanced quality. You are able to get support for dual-core, multi-threading for ripping, conversion feasibility to MP4 video format by custom-made file size; ripping any segment, episode, chapter or part; cropping or trimming DVD pics to suit your demands; selection of subtitles, sound track for the outturns and so forth.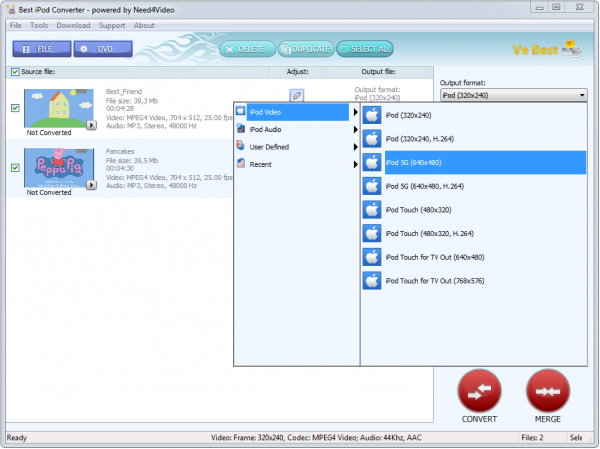 By setting up Best iPod Converter in your personal computer, all your tasks of ripping DVD , converting video and sound files to format suitable for iPod versions turns to be easier. Best iPod Converter supports about all video/audio data formats as inputs for conversion.
Conversion of all DVD video and sound formats to MP-4 (MPEG-4) and H-264 can become and pleasant activity with Best iPod Converter.