Friday, 11 January 2013 16:21
The popular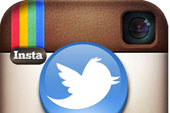 online photo-sharing Instagram has turned off its support for the micro blogging site Twitter and thus all instagram photos have disappeared from Twitter.
The twitter users now won't be able to see the instagram photos in their twitter feeds as today Facebook ended support for Twitter cards. The users now see only blank space where their image was placed formerly. Twitter explained it in its official blog update this afternoon:
The photo integration feature of Instagram has been disabled for twitter with the result users photos don't appear in Tweets and user photo galleries. While links to Instagram photos can still be tweeted, it is impossible to view them on twitter as it used to be.
The reason behind the move, as pointed by a Facebook representative regarding Instagram CEO Systrom's statement at Le Web last week, that Instagram wants the user to visit and see their photos on its website rather than Twitter.
The move is seen as a retaliation of Twitter's restriction on third party twitting software and third party companies such as Instagram from getting twitter user's follower lists. Instagram stopped using Twetter's cards featured last week, and thus twitter users no longer see photos shared with Instagram.
Twitter cards were launched in June that allowed the partner websites to present their content in very engaging ways. Twitter users were allowed to expand the tweets of participating companies to see their contents such as images, previews, videos and other information. The card offering for the photos put the image at the corner of the tweet.
However, as reported by The New York Times, Twitter is gearing up to engage Instagram directly by offering a set of photo filters through its mobile apps so that people will be able to share their photos on Twitter completely bypassing Instagram.