Friday, 23 November 2012 16:54
Google,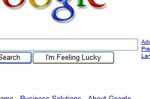 the mighty search engine's 'I'm feeling lucky' button brings all new levels to their creativity department, bringing an organization to style using doodles. These are mind blowing at how creative an internet company can become creative, producing marketing to a whole new level.
As "AllThingsD's," Mike Isaac noticed, it's a new strategy to the 'I'm feeling lucky' bringing new innovations and effects to the button.
A feature they implemented is that when the cursor hovers over the button, new attributes appear and a spinning icon appears just like on a slot machine. This shows many "I'm Feeling..." phrases, also featuring, "I'm Feeling Doodley." This adds a new height in Google's online presence.
By clicking on one of the provided phrases, you're taken to a page that Google has put its best efforts into the product and service it provides through the relevant wanted phrase.
For example, I just gave the button a go and it randomly stopped at "I'm Feeling Playful." After I clicked on the link, it directed me to their majestic pages for the Google's doodle for "Gumby" creator Art Clokey's 90th birthday. It features all the images of behind the scenes such as the early sketches of the doodles and some of the production shots of the "doodle in the making" being put together.
The "I'm Feeling Trendy" showed a "Hot Searches" which you can normally access through the Google trends page. The Hubble Telescope and Crab Nebula were displayed when the "I'm feeling lucky" button showed "I'm Feeling Stellar" in the Explore category of the Google Earth site. Go and take the magical button for a ride and see what else appears for you.