Friday, 26 October 2012 08:50
PayPal and D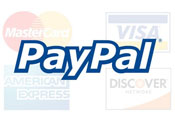 iscover said that there are 7 million merchants which accept Discover credit cards. By the second quarter of 2012, they will be accepting payments for in-store purchases from the PayPal payment processor platform stretching out to 50 million users.
PayPal had announcement this extension to take its strategy to all new levels. PayPal posted in a blog last week that this strategy is currently already being brought out to 2,000 Home Depot stores and another 15 retailers. This is a big achievement, "We'll get consumers used to using PayPal everywhere they want to shop," Don Kingsborough the vice president of retail for PayPal, told people in a conference call.
The system at Home Depot allows customers to pay for purchased items through their PayPal account, simply by typing their registered mobile phone number, which is linked to their PayPal account, and PIN which would transfer the money stored with PayPal to pay for their items purchased.
PayPal will also be providing the customers with physical cards, that can be kept in wallets, which can be electronically swiped to make payments to merchants accepting the Discovery Card. The mobile number and PIN will be saved electronically on the PayPal card which will be able to access the user's PayPal account from the cloud over protocols. The card will be used as an access token for a gateway of payments, Kingsborough said.
PayPal has been in progress of setting milestones by working with 145 banks which they are partners with, which supply many of the Discover's customers. This is to ensure that companies will fully grasp the adoption between the relationship of Discover and PayPal at new heights, Kingsborough said. Nothing has been said about how much PayPal will charge customers for using these transactions but we will all know soon. Although, on the other hand, Home Depot is claiming that the relationship between them and PayPal will lower the high rates for the transactions.
This partnership will help PayPal expand beyond its intensions for making online purchases. Discover stated that it will give customers the flexibility of using their PayPal account too. Not only PayPal will benefit, but Discover will too.