Tuesday, 07 September 2010 14:39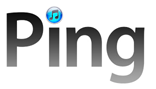 On Friday Apple launched Ping – a social network for music lovers, which attracted 1 million Internet users during first 2 days of its work. 30 % of them downloaded iTunes, 10 % of visitors joined the network.
Steve Jobs Apple CEO called it the combination of Facebook, Twitter and iTunes, but this network was not created to compete with them. It included the options of both networks. It is possible to follow the members, look for the info of their likes and dislikes, to learn what they buy. There is opportunity to share playlists with friends. The network has already 160 million registered members from 23 countries (counting only those who are tied to credit cards) , so the audience is considerable already for a start-up.
Ping is certainly watched closely as it can be a tool for sales increase and music discovery. The attempts to unite music appreciation with communication in the social network have been made already before. There are projects of MySpace Music, Rdio, MOG, iLike, Microsoft's Zune.
It is worthwhile mentioning as well that launch of this network will increase considerably the sales in the iTunes Store so it is an additional instrument to contribute to prosperity of Apple.