Thursday, 21 June 2012 16:43
The latest spe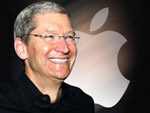 culations say that US Department of Justice is going to sue Apple on the issue of excessive pricing of e-books without concerned permission.
This latest speculation was also confirmed by the Washington based reporters of Reuters and Bloomberg. They had also revealed that this lawsuit is likely to be filed today.
Another speculation continued the debate by saying that Apple along with other publishers such as Penguin and McMillan is also getting geared up to fight the lawsuit. On the other hand some publishers like HarperCollins, Simon & Schuster and Hachette Book Group are not willing to fight the lawsuit and are also trying to settle the issue in consultation with the government agencies.
So far nobody, neither the Government agencies nor the Apple and its allies, have made any formal statement in this regard. Invariably, this silence on both the sides has given a lot of scope for several speculations. It is believed that the Apple and its allies are fully convinced with their way of pricing and trying hard to keep their hold on setting of prices for the e-books. It was reported by Bloomberg that US demanded several agencies including Amazon to get back to the previous pricing methodology and go ahead with their sales as per those prices. So, some of the agencies such as Amazon have stopped pricing of e-books in the way they have been charging so far.
On the other side, Apple is not ready to be receptive for such demands. According to Apple it was mentioned in their contract that the e-books would be provided to it at the lowest prices. As no agency making any firm statement, the speculations have been describing this period as the cooling off period. Philip Elmer-Dewitt of Fortune had correctly brought by saying that Apple is inviting risks for itself.
During this so called cooling of period Amazon has resorted back to selling of e-books at normal prices. Whereas, Apple is still continuing to charge extra 30 percent surcharge over and above the prices prescribed by the publishers. It is expected that it would cause a sever damage to Apple e-book business in future.
What is more confusing, for people like you and me, is that does Tim Cook, the CEO of Apple, really want this controversy to learn a lesson? He could have easily learnt such lesson from the history where Microsoft and IBM had confronted for years.