Friday, 03 September 2010 00:00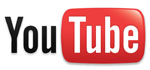 Google launched HTML5 version in Europe which gives quicker access to mobile devices.
The website was upgraded last month, providing faster speed and more friendly elements according to the report of product manager of You Tube. The website provides features that could be available before from ".com" website in addition to option of playlists creation, of search query suggestions and favorite videos. It is possible to enter the site from any point of the world.
YouTube on mobile devices is available from 2007. At that time one could have 1,000 videos selection.
What are advantages provided by HTML5? It lets bigger amount of data for storage by the browser. It lets efficient run of applications that made experience of the user better. But specialists on security warn about some points to consider at that.
There are over 100 million visits daily to YouTube from mobile devices. It became even more popular when it united its efforts with Google in 2006.
Google optimized also the version for iPad tablet produced by Apple. It also added support for iPOD Touch iOS vers.2
Developers of open video formats, Free Software Foundation applied through the open letter to Google to release On2 video format VP8 for distribution through YouTube. That means that it will not depend upon Adobe's Flash, for instance.
It by no means denotes refuse from Flash on mobile version of YouTube. But as Internet Explorer 9 is coming up which will offer as well HTML5, the experts start doubting extensive use of Flash.