Saturday, 04 September 2010 14:32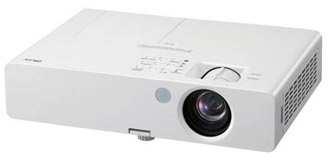 Two new LCD projector modifications – PT-LB1EA and PT-LB2EA - have been designed and introduced by Panasonic. In following the concept of quality, the developer team focused on color purity, integrity, performance and ease of use. The company places user's satisfaction above all and strives to release user- and eco-friendly products, using concise pricing policies.
PT-LB1EA uses 2200-lumen XGA resolution, and PT-LD2EA uses 2600-lumen resolution. These are the most common brightness parameters in Asia used in various spheres. Both devices are compact in size, their weight not exceeding 2.3kg. However, image quality and capacity do exceed expectations. Like any other Panasonic projector, these ones feature the Daylight View Technology that uses ambient light to enhance the picture.
These new projectors showcase Panasonic's approach to promotion technique, in keeping with which they have tailored the product to suit Indian conditions. The product features the Intelligent Power Management - an advanced voltage jump protection system, which ensures smooth and uninterrupted functioning in case of voltage instability. The projector also features a direct power-off device, which keeps the cooling system working for a while should an electricity shutdown take place, so that the lamp cools down gradually. This feature contributes to the product's longevity and better performance.
The product is supplied with the free Multi Projector Control and Monitoring software. Besides, the projector has the so called Start Up Logo feature, permitting companies to place their logos during startups. Panasonic is planning to develop and release new versatile and easy-to-use products. Those are expected to feature the short throw lens technique, which will ensure even higher brightness and image sharpness levels. Panasonic will continue to work toward perfection and it will provide unique whiteboard services for education purposes.