Tuesday, 31 August 2010 10:39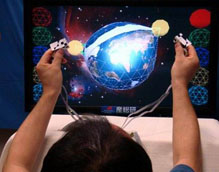 Japanese telecommunications and media industry has come up with 3D TV – a unique technology that permits users to lay a finger on and feel a virtual object. Users have received a fantastic opportunity to touch, move, push and even squeeze pop-out images as if they were real objects. Six motion-detecting cams track a user's fingers at different angles to ensure total coverage, and tactile sensation is provided by tiny clips attached to fingertips, which vibrate as a person 'touches' the displayed object.
This new attraction has been invented by researchers and scientists from the National Institute of Advanced Industrial Science and Technology (AIST), Japan. At the Wednesday demonstration session, a member of research group squeezed and stretched a 3D image of the globe by aid of the system. According to the spokesman, the system was apt to track human reactions and behavior and respond via the tactile clips, giving an illusory sensation of touch. That, he noted, was the first time ever that man had a chance to touch a non-existent object, and the new device ensured such an opportunity.
The system uses the so-called GyroCubeSensuous interface. Back in 2005, when it was developed, it was a small-size device that fitted on the palm of a hand. It incorporated a rotary feedback system that sent signals to the finger clips, and gyroscopes, which were responsible for the image segment.
Definitely, the technology opens up new horizons in the sphere of virtual reality and telecommunications technology. This i3Space technology, scientists believe, will be helpful for practicing surgeons. They also expect i3Space to soon become a buzzword in the world of gaming. The AIST research team is going to present the device at the 'CEDEC 2010' conference scheduled for September 2010.