Friday, 10 September 2010 00:00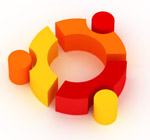 Ubuntu 10.10 beta release has been announced. The latest version of the well-liked Linux distribution, with a codename of Maverick Meerkat, was initially planned to be released in October. Several significant enhanced features for user interface were added and software was updated.
The distro is going to have different Unity default interface for netbooks version. Unity adjusts the interface of distro and the docks are located on the left side providing menu for applications you use often.
Unity is integrated with programming framework. The desktop became more polished as well as its What's New views and Featured views were updated for showing new applications.
Cleaner and quicker boot process is an additional advantage of the last version. The release took place in advance. The look of the version is quite different from what it was planned before but the theme looks really nice after all work performed over it. It has more sophisticated look.
Work over panel indicators is going on, the audio indicator in particular, which at present has playback controls and a volume adjustment slider. It will remove the necessity of individual audio applications to have own notification area icons.