Monday, 13 September 2010 11:26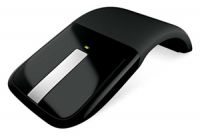 Release of Arc Touch Mouse took place this week after numerous rumors. Now you can order the device at Amazon.com, Buy.com and Bet Buy.com at a price of $69.95. The mouse will appear in online stores in the beginning of the next year.
The mouse is ideal for portability as it is no more than 15 mm thick at the widest spot. It is able to collapse as you need to turn it off and comes out to turn it on. The mouse needs 2 AAA batteries that will make the mouse active for the period of 6 months as Microsoft assures. The device has special indicators of 2 colors informing you about that).
It is rather compact with a touch scroll strip which has capacitive sensing technique feature. The scrolling can be easily controlled with it. You have to move the finger little by little for it. Make a flick for fast scrolling and a tap to stop it. Sensor pads will discover every position and change of speed. 3 tap buttons of the strip include the page up, page down features and programmable click area in the middle of the Arc Touch.
2.4GHz wireless Nano transceiver is magnetic and it is snapped to the mouse bottom. The mouse features BlueTrack sensor that makes almost any surface good for work. You only need USB port and OS system, such as Windows Vista, Windows XP or Windows 7.