Wednesday, 01 September 2010 15:57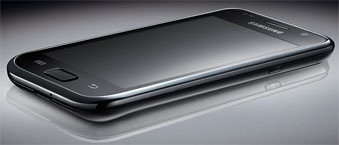 Samsung's Galaxy S Android smartphone has achieved the point of 1 million items sold in the United States as reports the company.
Apple distributed 1.7 million if smartphones iPhone 4 in the course of the weekend and this gave reasons to speak about the Android superiority. One of the experts commented the situation saying that there is pro-Android and anti-Apple movement. What is causing it? First of all this is the price and alternative you receive in addition to freedom of using the device without control what to do with it.
He also added that shipment totals of Android devices will exceed the sales of Apple iPhone by the beginning of the next year.
But the spokesman of Samsung threw light upon the situation and said that shipments has nothing to do with sales therefore it is too early to speak about forecasts of this kind. The shipment is performed to retail outlets that are going to sell Galaxy S. But this remark was neglected by the majority of bloggers because shipment to a retailer generally brings to their fast sales to the customers.
For instance, T-Mobile and AT&T are distributing Galaxy S already. There is a gallery of 4 models on the Samsung website with Epic 4 G standing out among others due to slide-out keyboard, frontfacing camera.