Shell & Desktop Enhancements
Ve Best Free Pet Numerology calculator software
Version 3.0.1 Oct 11, 2010. File size 10.1 MB.


 

Main features:

Pet Name number calculation;

Pet numerology birthday code calculation;

 

System requirements:

Windows 7/Vista/XP (32/64);

 
VeBest Pet Numerology review
Numerology is considered to be an ancient science that is usually used for studying life as well as creation. Thanks to the modern Numerology scientists could predict and forecast natural disasters all around the world and make people leave the territories that are dangerous for their lives. Numerology is becoming a powerful tool to escape numerous life losses and turn our world into a safe place to exist in.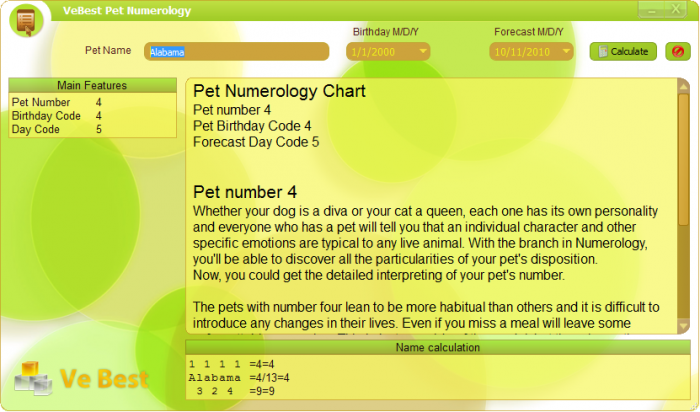 The power of Numerology is centered on numbers and their meaning. According to scientists, the entire of life's potential is included into the numbers from 1 to 9. Once we have discovered all the power of numbers and learn how to interpret the numbers, we can plan our lives, maximize our opportunities and take full advantage of possibilities that everyone has.
Many people think that everything happens by chance or on random basis and if we do not understand that something bad happens, it just happens. It seems that the rules according to which the universe functions have been broken. That is why we treat all that happens in our life as fortunate and unfortunate. The universe seems like an interacting machine with anything in it influencing and being influenced by anything else. These compound relationships that interact and control any piece could be understood better by studying Numerology.
And, there is no difference what a live object we take into consideration. Having developed in different spheres, Numerology scientists have researched and analyzed the sphere of animal life and want to share the results that could be of great value for pet lovers and want to make their lives happier. Using our software, you will define what your pet's mood, what activity it will like doing today. It is more than just software, it is the way to communicate and interact with your pet daily, understanding its wishes and likes.
From now on you'll be on one wave with your pet as you could see whether your pet is ready for training or has mood for showing and demonstrating its skills and abilities. Knowing your pet's mood, you'll be able to change it and make your pet do what you want. You'll have an opportunity to know whether your pet is full of energy or depressed.
We are more than sure that your pet will enjoy the new life with its understandable owner.