Shell & Desktop Enhancements
Ve Best Movie Manager - movie collector, dvd organizer software
Version 7.0.7.1. May 30, 2010.

Main features

- The most advanced and powerful Movies/TV Series/Actors manager;

- Catalog (movie database software) for alll your CD/DVD/Blu-ray/VHS movies;

- Automatic HDD scan for all video files;

- Access to many detailed online databases with movies descriptions and ratings;

- Download trailers;

- 3 different user interface modes;

- Fully customizable user interface with various skins;

- Visualize movies on your iPhone;

- Multi language interface.

 

User interface Languages
English, Deutsch, Español, Français, Italiano.

 

System requirements
Windows XP/Vista/7 with latest .Net Framework
Internet connection for program activation.

 

Software is available
only for existing customers.

Not available for purchase.

 

We are working now to create
new movie manager
for Windows & Mac.

Stay in touch to get
new innovative manager in 2013!
| | |
| --- | --- |
| Watch Video tutorial | Support |
| | |
VeBest Movie Manager review
Ve Best Movie Manager is unconditionally the most advanced and powerful Movies/TV Series/Actors movie collector software that provides you with the most extensive range of possibilities in effective control over your refined movie collection.
The primary function of Best Movie Manager is to logically catalog all your movie from CD/DVD, files from your Hard Disk and other removable devices in one moment with all the information on codecs, resolutions automatically. Thus, you get a perfectly organized collection, where you can find a beloved movie whenever you feel like it or needed.
Being an advanced movie organizer, Best Movie Manager will provide you a range of supportable formats, including DivX, XviD, DVD, VHS, SVHS, VCD, DVD-R, or LaserDisc.
Moreover, it can serve as an extended movie and actor database, and a cover manager. Having a chance to connect directly to online movie databases will enable you to get all the necessary information on a movie such as actors, actresses and other related details. Movie information, including pictures, images will also be available. The above mentioned data can be imported with the unique "MagicScript" Technology. Due to the scripting options it's more flexible than other program, but also one of the more advanced ones to use - but tons of features.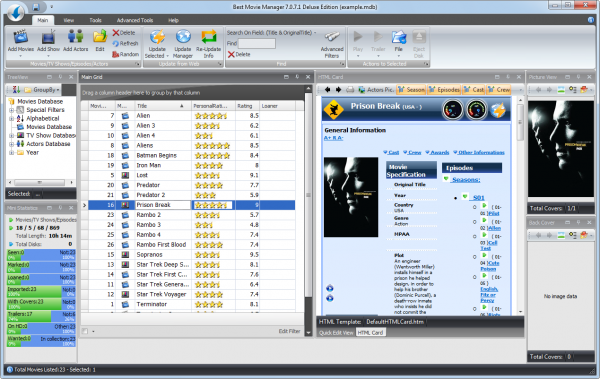 Movie collector software enables you to read media file information directly from Real Media, IFO AVI, MPG, including bitrates, frame rates, audio, channels and so forth. Together with editing the information on your movie manually as well as adding your notes, you will be able to import data about any movie from the Internet.
Our best movie manager software supports basically all most popular video codecs.
Moreover, VeBest Movie Manager supports almost each video media gained from Blu-ray to MP4 to VHS to LaserDisc. Customers can use it as Blu-ray, VHS, CD and DVD organizer software.
Beside, comparing Best Movie Manager to other available software of that type, it does not bind your database alternatives for automatic input. You have an opportunity to pick out multiple databases from all around the world to query your movie details.
As a result your DVD Collection may be sorted by personal rating, year, folder, genre, media, etc and the quick search will let you find any movie with just a click of a button.