Shell & Desktop Enhancements
Ve Best Audio and voice recorder software
Version 1.0. Build 1015. June 1, 2010.

Have you ever dreamed about a home recording studio? Well, you have a chance to get it right away now. Best Audio Recorder is an unconditionally best piece of software that does much more and provides you with an enormous choice of possibilities than just record your own voice. It is literally like having a recording studio at your hand and at any moment you want to record your audio file. Audio recorders are becoming a really popular and rather niche accessory for beginners and music lovers.

Best Audio Recorder does everything its competitors do, but a whole lot more. It provides you with an opportunity to record in MP3, WAV, WMA, OGG, FLAC, AAC and APE files with impeccable sound quality which literally will amaze you.

With Best Audio Recorder you can record voice from microphone, web streaming audio, or audio files played by Real Player, Flash, games, Winamp, Media Player, Quick Time, Windows, etc. Audio Recorder can record any audio file passing through any line of your sound card. For instance, you could record sound being played back by an external LP as well as external program, cassette, CD/DVD player, or AM/FM/Satellite radio, etc.

eSellerate is an authorized
retailer of VeBest Corp.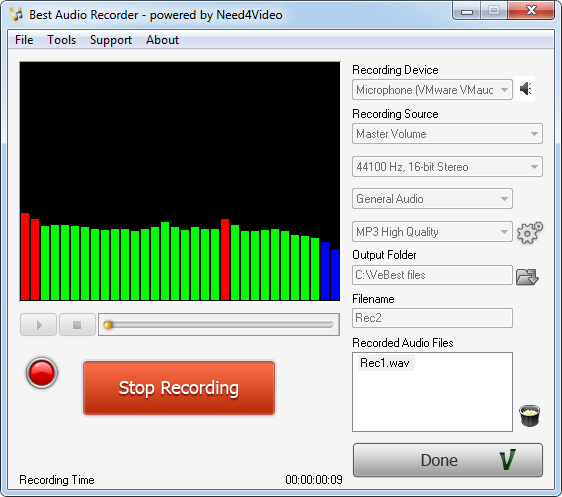 Best Audio Recorder software includes everything you need to make outstanding sounding recordings and audio files, including pro tools for achieving high quality. You can easily use finished presets to choose the recorded audio quality and experience excellent sounding without any knowledge, concerning audio settings.
The user interface was designed to provide you with accuracy, speed and ease of use. Moreover, you are enabled to customize output characteristics such as audio mode, quality as well as VBR method while recording to MP3. Or just a sample rate and the number of channels while you are recording to WAV.