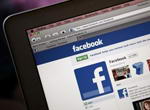 Facebook is soon going to come up with a standalone application, which will help users meet their friends in real, a report says. With this app, the company is entering into a field that has numerous competitors. However, no one has accomplished mainstream success yet.
The app does not have a name yet, reports Bloomberg, and is going to be released in the coming month right on time for South by Southwest. Using the app you can track the location in the background as well as share it with your friends. You can also track location even without opening the app in the recent past. Facebook has chosen to keep mum about it and did not respond.
Broadly, the app resembles other apps such as Apple's Find My Friends, Google's Latitude, Highlight, and Foursquare. These apps work to help you find others friends without even making the effort to look. This is the best thing about them. The worst thing about them is that they can drain your battery and can intrude your privacy.
However, none of these apps have actually achieved global adoption. Not many people use these apps today. Network effects play a role here. Not many people actually have joined yet in order to help these apps succeed. Facebook on the other hand, has over a billion users and thus, this new app is more likely to work.
Know that this will be a standalone app and not a feature such as the Nearby feature launched by it in the recent past that helped people find locations nearby. Facebook is being extremely cautious and it has good reason to do so. Since there are privacy concerns, it'd be bets to first test it by launching it as an app, giving users the option to download it.
If the app is successful, it could become a goldmine for Facebook. Bloomberg notes that Facebook could make use of the data that the app will give to sell ads to a wider audience considering their locations and their daily routines. This is a strong reason to pursue this idea and see if it will work. Remember that it will be an app alongside the mobile app for Facebook and not within it to start off with.